The average cost of window cleaning in Toronto for a 2-storey, non-corner lot home under 2,500 square feet starts at $125. The cost of the window can vary depending on the size of your home and other factors like divided windows.
Table of contents:
Average cost of window cleaning

The average cost of professional window cleaning services can range from $170 to $245. The cost is based on a non-corner, 2-storey home of under 2,500 square feet. For those who charge per pane, the price can range from $5 to $10 per window in Ontario.
Average cost of a professional window cleaning services

ranges from
$170
$245

The price can change due to factors such as window type, like storm windows or screens, ease of access to those windows, as well as the number of panes. The type of window cleanings involved, such as the removal of stains, paint, and mineral deposits, blinds cleaning, and screen doors, can also affect the price.

Exterior only, interior only, or interior and exterior window cleaning

Since tough dust and water spots accumulate on the outer side of the windows, exterior window cleaning is the most logical choice for more clients to get from professional window cleaning services. Some would even just go with exterior window cleaning and personally take care of cleaning the windows from the inside.

Either interior or exterior cleaning services can start at $170. Of course, the size of the house will also affect the total cost of the window cleaning service. If you want the appearance of your windows to be consistent from inside and out, consider getting both sides of the windows cleaned by the cleaning company.

Book a Windows & Eaves Cleaning Today
Eavestrough cleaning cost

An eavestrough collects rainwater from your roof and helps it flow to your downspout to prevent the water from damaging your soil on the ground. However, an eavestrough gathers dirt and leaves over time, which clogs rainwater from flowing down properly.

To keep rainwater from potentially damaging your property, you must regularly get your eavestrough cleaned with the help of a professional window and eavestrough cleaning service. On average, this service costs between $170 to $290.

Cost factors to cleaning windows and eaves

While the size of your home and the number of windows are the two main factors in determining the cost, the condition of your windows and eaves will also affect the price. For example, if your eaves are maintained on a regular basis, you can keep costs low since cleaning it would be easier and much faster. However, if this is the first time someone will clean your eaves, then expect to pay a higher price to get it cleaned and fixed.

Book a Windows & Eaves Cleaning Today
Windows cleaning costs

How much do window cleaners charge

In Toronto, the average window cleaners charges start at $170. Depending on the size of your home and type of house, the cost will differ. Some window cleaners will charge based on the number of windows of $4 to $20 per window.
Average cost of window cleaning per window

ranges from
$4
$20

Residential window cleaning prices

In Toronto, residential window cleaning prices start at an average of $170. The cost of this may differ if your home is larger than 2,500 sqft. Additional costs may also be required if they are outside these parameters, such as removing screens on the window.

Book a Windows & Eaves Cleaning Today
Eaves cleaning costs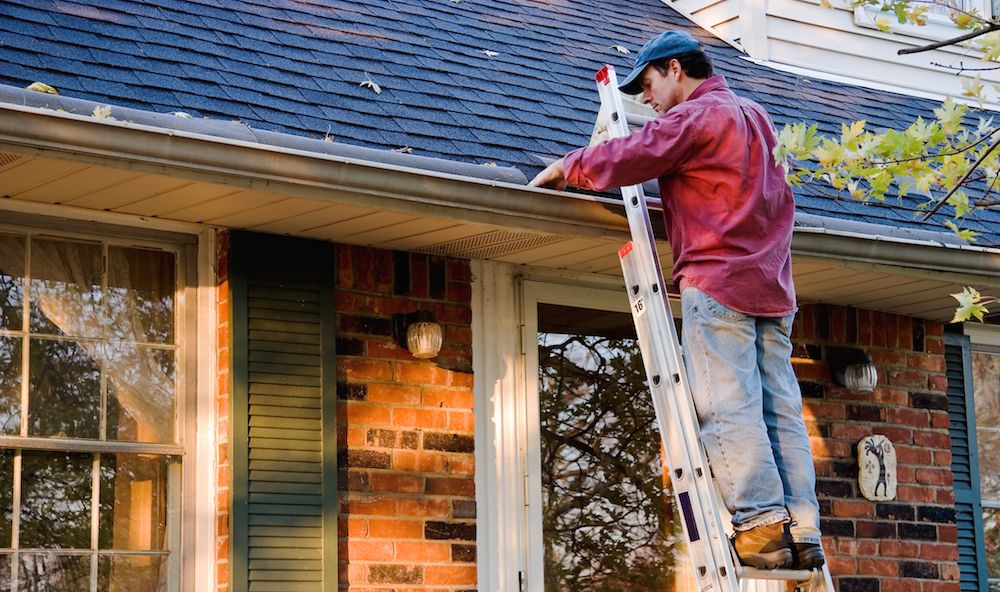 Eaves cleaning price list

Eaves cleaning starts at an average of $170 in Toronto. Depending on the size of your home and type of house, the cost will differ. If there are additional services required, service providers may offer cost savings.
Book a Windows & Eaves Cleaning Today
Importance of cleaning gutters

Gutter cleaning is extremely important to prevent water damage inside your home. Cleaning your gutters from leaves, dirt, and debris will ensure that water doesn't overflow from the gutters. When this happens, it can cause water damage on both the exterior and interior of your home. Cleaning out your gutters regularly can help to avoid expensive repairs in the future.
FAQs
How often do you need to have your windows cleaned?

Most customers get their windows cleaned once or twice a year. However, the number of times you need to clean your windows can also depend on your location. If you live in areas that attract a great amount of dirt, you may want to get the windows cleaned more often. If you have screens, they may need to be serviced more often.

What type of windows need to be cleaned?

Each window type, whether they are glass, vinyl, or tinted, may require a different cleaning method. Jiffy suggests to do it twice a year to keep your windows sparkling clean.

What is included in a standard maintenance window and eaves cleaning?

A professional window cleaning includes the cleaning of window glass, sills, and frames as well as drying them to prevent drips and streaks.

Cleaning eaves, on the other hand, involves the use of special tools like vacuums to get rid of clogs effectively. They need to remove debris and any materials that may be stuck in the gutter.

How often do you need to have the eaves cleaned?

To ensure the eaves are in good condition, you need a window cleaning service to clean it twice a year - one in the spring and another in the fall. If you live in areas where there are lots of trees surrounding your home, you may need to get your eaves cleaned more than twice to ensure the eaves are cleared for the snowfall and rainfall.

Cities near Toronto, Ontario with similar rates:
Ajax
Aurora
Brampton
Burlington
Markham
Milton
Mississauga
Newmarket
Oakville
Oshawa
Pickering
Richmond Hill
Stouffville
Vaughan
Whitby